[vc_row][vc_column width="2/3″][vc_column_text]
What Is The Smart Offer Platform?
A powerful real estate tool designed to sell homes quicker and for the most money. Agents can leverage this platform to attract more buyers to compete.  Listing agents simply upload their listings to the platform, and provide the link for buyers to send their offers to and watch what happens…
[/vc_column_text][vc_column_text]
What We Do
We provide The Smart Offer Platform and the proprietary software so that you can  personally brand this home sales method to you or your real estate brokerage firm. Then we packaged it together in our Premium Membership to help the real estate industry offer an alternative way to sell your listings.
The Goal
Leverage this tool and membership to quickly sell homes at the fairest price and provide a superior service to your clients.
[/vc_column_text][vc_column_text]
How It Works?
Seller frustrations are real…"when will my house sell?", "why do I have to lower my price?", "where are the buyers?…you have done everything you know to do, but still no offers.  For the longest time, agents have been selling homes the same way, nothing has really changed.  The auction has come along and value range pricing, but the issue with auctions is that agents don't like them and you end up minimizing the buying pool.  Value range pricing is a step in the right direction, but there is no method behind it that can create an environment that creates a fair price in an efficient time frame.
This is where The Smart Offer Platform comes in. Along with the value range, we provide transparency and price ranking.  As offers are submitted to the platform, the top 3 are ranked by the highest price, which no one sees.  We also show other general offer information so that the potential buyer has enough information to compete and make a smarter offer.
The benefits are numerous to all parties involved (buyers sellers and the agents), but from the listing agents standpoint, the main benefit is that you can now offer a superior service to your client, while maintaining your fiduciary.
Time Efficient
Fair Price
Differentiation
Transparency
Many aspects of the real estate industry has evolved due to technology, but the pricing and offer process has not.  Now The Smart Offer Platform brings that sorely needed transparency and method to help minimize the frustrations buyers and sellers have experienced.
[/vc_column_text][vc_column_text]
Getting Started Easy Steps…
Step 1:  Join our Premium Membership
Step 2:  Set up your offer portal to the Offer Platform
Step 3:  Go through our "How To" tutorials
Step 4:  Upload your listings and obtain the listing URL's
Step 5:  Market the way you normally do
Step 6:  Point buyers to your listing URL's on the MLS and others syndications you are marketing through (Zillow, Trulia, Realtor.com, etc.)[/vc_column_text][/vc_column][vc_column width="1/3″]
[vc_column_text]
Offer Platform Sample Listing
(Click On Image To Enlarge)
[/vc_column_text][vc_column_text]
Listing Summary
[/vc_column_text][vc_column_text]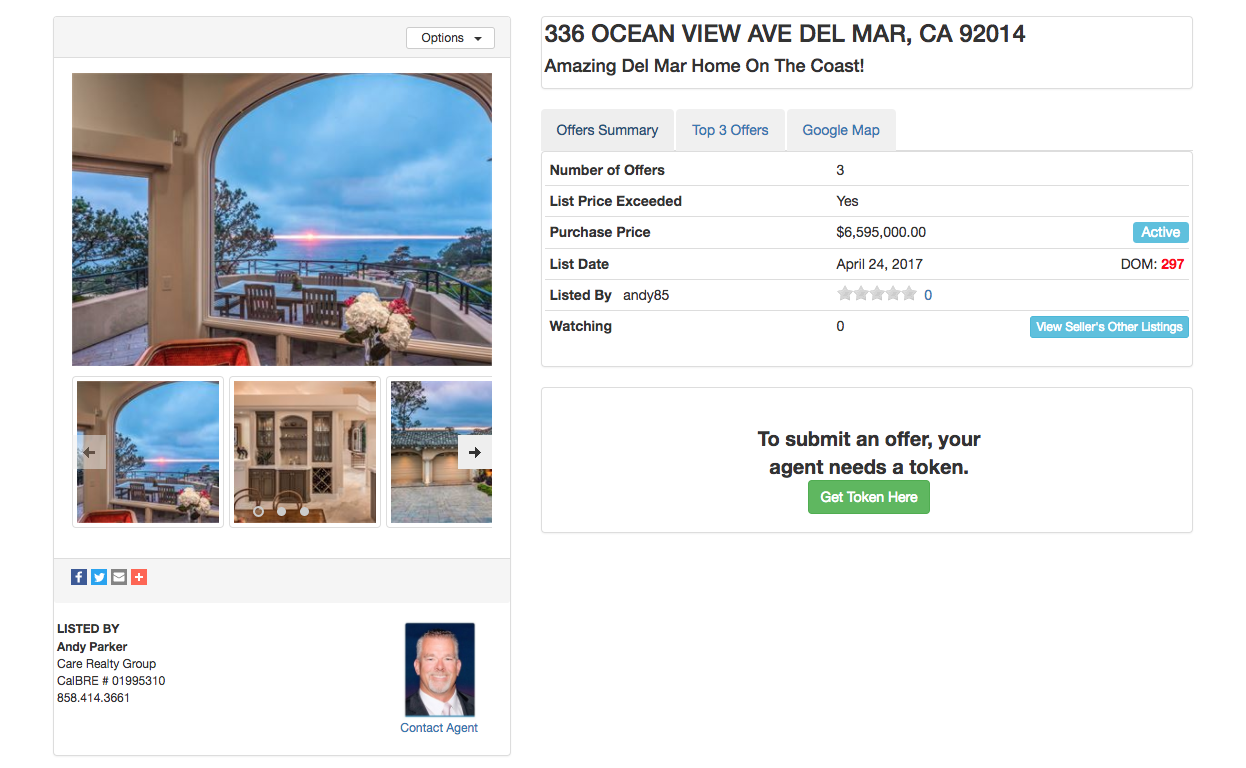 [/vc_column_text][vc_column_text]
Top 3 Ranked Offers
[/vc_column_text][vc_column_text]
[/vc_column_text][vc_column_text]
Location Map
[/vc_column_text][vc_column_text]
[/vc_column_text][/vc_column][/vc_row][vc_row][vc_column][rev_slider_vc alias="about"][gravityform id="1″ title="false" description="false" ajax="false"][/vc_column][/vc_row]